(Kim & Greg, one of many sublime images by Chris Boar CB Photography)
Wedding Ceremony 2.0
If you are the type of person who is looking for someone like me, you are likely wondering how to create that special recipe that is "you" into your celebration…not just the sheer joy, but the awe and intention.
And that's what co-creating your ceremony can give you. The process we use is dynamic and hands-on.  That allows you to fully enjoy and experience one of life's truly magic moments. And it just may fully capture the hearts and attention of the people you have chosen to share it with.
The process is clear, simple, and (most of my couples tell me) downright enjoyable. Here are the steps.
1. Are we a fit? (no-cost, no obligation)
The first question to ask yourselves: do you resonate with my approach, my style? Are we a good fit? If you sincerely think we are, then contact me me to start a conversation. We can meet for coffee, talk over the phone, or use Skype or Facetime. This is a no-cost, no obligation step.
You may not know what you want, and that's perfectly normal. During this initial meeting we'll talk about what a wedding ceremony can actually look like. We'll explore who you are. We'll talk about your 4 words…what you want your ceremony to look like. I'll show you some of my ceremonies. We'll decide if we're a fit. And if we are, then we'll get ready to work together.
2. Your Ceremony
Co-creating your wedding ceremony is a true labour of love. It allows you to really savour what you cherish about each other, why you have chosen each other. It can ground you while a myriad of details swirl around and help you say: "you know, honey, I am not sure about those table centrepieces, but I AM sure about spending the rest of my life with you."
We'll work together: you are the experts on "you", and I can create a pretty good ceremony…:) We'll hang out, brainstorm, write and edit back and forth until you are completely happy with it.  We can spread it out over a period of months…couples often tell me at the end that they enjoyed creating the ceremony as much as the delivery.
Real Life:  Melissa blogs about working with me
3. Your Vows
Good vows are comfortable and real. They should focus on what will make your relationship solid, be it having each other's backs every day or scratching each other's backs every night.
Most of the couples I work with want to create their vows…whether it's something short and sweet, your own words, or you want to hammer them out together (which may feel right if you are already living together.) The possibilities are surprising, and yes, the examples you will see are as amazing as my couples! (cheesy, I know, but totally true..:)
 
 4. Getting Ready

You may or may not need a rehearsal... I will be honest with you…cross my heart. But either way, we'll have our very own rehearsal-ly thingy, so the words feel/sound familiar when you hear them at your ceremony.
You will have your "don't forget list" in plenty of advance time. (especially helpful if you are traveling to Vancouver Island to get married.)
I'll do up Cue Sheets if/as needed and get your other professionals clued in about their parts. And a bunch of other things that you will likely not have thought about.
5. Your Big Day
While the ceremony only takes a fraction of the time we spend together, it is of course, the most important piece. There are a myriad of details to look after. And that's my job.
On your wedding day, I'll show up early for your ceremony. I'll run through the cues with your other professionals.
I'll bring a cordless PA system if needed…you can even plug most music sources into it.
I'll meet your family and friends before the ceremony….say hello to your folks…grandparents or grandkids, too. If you have a ring dog, we'll have a little ear scratch and a liver treat.
I'll have a little huddle with your wedding party, and ensure that everyone knows their parts. If anyone needs to practice, we'll do that.
I can't remove all the jitters, but I can reduce them and add some humour when things don't work out precisely as planned (and they usually never do).
I'll lead your ceremony with authenticity, warmth and grace.  In whatever tone you want – reverent or relaxed.
I'll make sure you breathe properly through the ceremony, while appreciating the awe of the moment.
When your ceremony is over, I'll file your documents with the Ministry of Vital Statistics and make sure you have a copy. And I will provide you with a lovely keepsake version of your ceremony.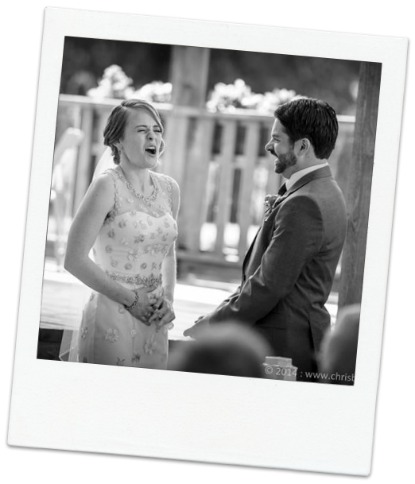 My pledge to you
Your hearts, your bond, your story… this is the centre of the process – that I promise.
Whether you are intentional and introspective, extroverted and earnest, playful and prankful, tender and trusting – we will capture the essence of you, you, you – that I promise.
I will put my heart and soul into creating and delivering your ceremony – that I promise.
I know how important your day is, and will treat it with reverence – that I promise.
Details
Scheduling: Since I aim to provide an exemplary level of service, the number of ceremonies I am able to create and lead is –simply– limited.  Most days, I only do one ceremony. 

Travel: I normally deliver ceremonies between Victoria and Campbell River. But I've travelled further afield when requested.
Payment:  You can pay by e-transfer, credit card, cheque or even rolls of coins (if you've been saving up for the big day.)  Half upon booking, the balance near the end.
Types of Ceremonies: The #1 Wedding , Weddings with History, (when you have history) A Wee Wedding Ceremony  (for small groups), Vow Renewals or Elopements.  I provide  Ceremony Writing as my time permits.
If you like what you see here, wonderful! Start the conversation by telephoning me at 1.877.290.5065 (toll-free) or by e-mailing me here.
"We could not recommend Barbara enough. In fact, we already have recommended her to several friends and family members, one of whom said "your ceremony is how ours should have been; I want to renew my vows with her at the helm!". But the thing is, Barbara isn't really the one at the helm. She's the one guiding you, so you can be there at the helm! Our ceremony was fun, inclusive of our guests, touching, unique, and SO us. We even threw a few curve balls Barbara's way, which she handled with ease. We never thought we'd be able to create such a unique ceremony that reflected who we are so fully, but we did, with Barbara's guidance and boundless creativity, and we are so happy with how it turned out."  (Kim & Greg)
Contemporary Minister/Celebrant and Wedding Officiant, Vancouver Island. Including Victoria, Duncan, Nanaimo, Parksville, Courtenay, Comox Valley, and Campbell River.  Tofino and Ucluelet upon availability.