Running away to the Island to get married?  A little bottle of champagne and a tiny cake not quite enough?  Perhaps…
You want your ceremony to reflect the awe you are feeling as you stand before each other.

You want to share your joy in a way that feels natural.
You want to have the feeling of proactively marrying each other.

You don't want to race through this moment in time.
Whether you want to get married next year or next week, we can figure out how together. But these ideas may help you to begin….
Marry Each Other Intentionally

This is the perfect time/way to celebrate your history. To mark your place. To set the tone for the future.
N&K like to walk in nature, so we did a walking ceremony.  Since a wedding ceremony has 3 steps,  we did each step in a different location.
"We have finally had a chance to take a deep breath (you know we love those!) and reflect back on the experience surrounding our ceremony. 
It was truly magical. It was everything we imagined it could be…. The ceremony reflected our relationship, what it has been, what it is now, and what it will be in the future – exactly what we set out to achieve in the beginning.  
We are so grateful for your efforts leading up to the big day, and your calming, authentic, and (I'll use this word again) intentional presence in the moment. You were focused and grounded and we are so thankful for the gift of your care and attention."
Make it Fit
The moment you marry is one of the most personal moments of your lives.  So it makes sense that it should fit who you are…whoever you are…:)
Botanists C&T wanted to get married in an old growth forest, among giant trees. While Carmanah is a great spot, flying halfway around the world to eat a freeze dried wedding dinner wasn't a delicious thought. I found another option and we went on an adventure.  Read more here.
I, part of the Air Force in Europe, asked if their witnesses be Air Force folks?
A little digging unearthed an ex-CFB Commander, who happily came along with his wife (and even took pics!) And started a new friendship that will last over the years. A wonderful afternoon.
Go for Authentic
Dressing up fancy can take away your focus from what's real. And even the weather can do that!  We'll get grounded and centred.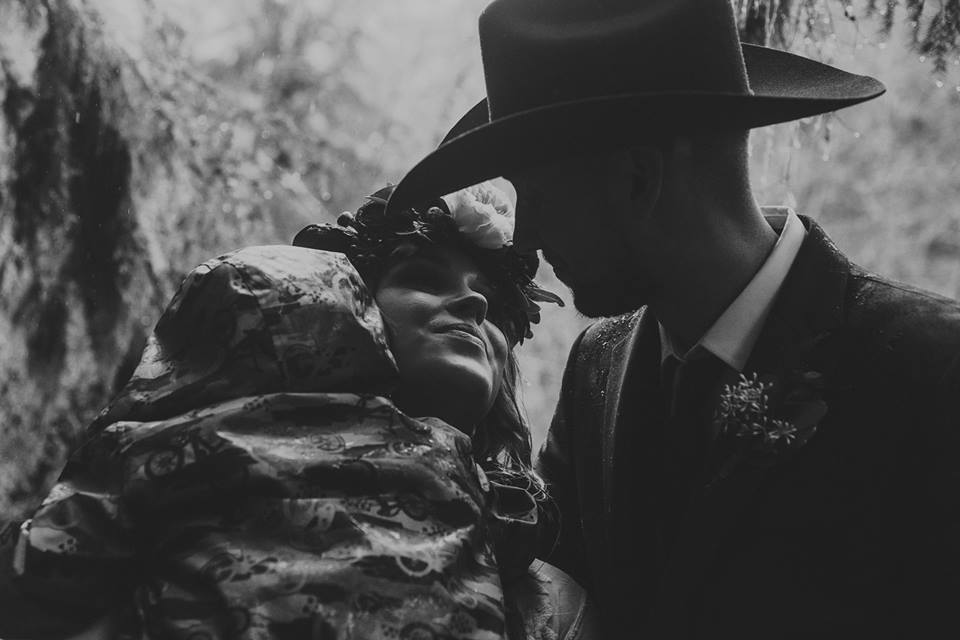 A&T had a tough road leading up to their wedding day, but it only made them a more solid couple. True to form, the day they chose to elope was perhaps the wettest of the year. Symbolic for a couple who intend to weather any storm together. Unbelievable images from the always amazing Jennifer Armstrong Photography.
"Their walk into marriage really was a slice of magic. And i was so honoured to be a part of it with you. Thank you for bringing so much of your open heart & wise experience with you. A& T's ceremony was as unique, beautiful & powerful as they are."
.
Add some Adventure
Has your relationship been an adventure?  Then perhaps your wedding should be!
After 11 years and 2 kids together, B&D said "surprise us!"  So we did…both ceremony and setting!   See more, along with amazing images from Chelsea Dawn
Out in Nature
You may feel closer to the wonder of this world beside the ocean, on a mountain with islands below, or in a forest amidst giant firs.  There was a time when nature played a huge role in wedding ceremonies, and we can go back to those to actively marry you.
Group Elopements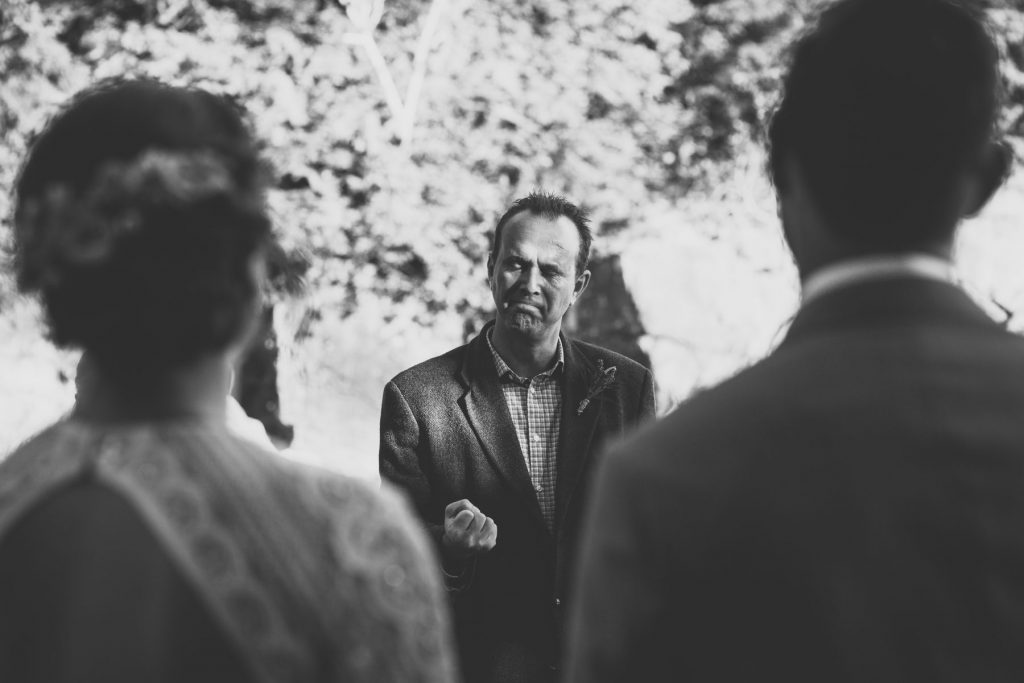 Just bringing the people who matter most?  Awesome!  I call these "Wee Wedding Ceremonies".  The dynamics are totally different than  a ceremony with more people…and a simply remarkable way to get married.  I can explain better if we meet.
How we will work
I'll not just be your wedding officiant, I will also be your sounding board/concierge…I know some amazing spots for ceremonies, and have a nice rolodex full of venues and other professionals who love elopements as much as I do.

You will need to bring your licence application  (details here), your rings (if rings will be included in your ceremony).
I have a few good-natured seniors who will be your enthusiastic witnesses for a small honorarium. (hugs are free..:) Or we can find some witnesses along the way.

In most cases, I will supply you with a nice keepsake ceremony at the end, so you can share your ceremony with your family and friends upon your return.
Contemporary Minister/Celebrant and Wedding Officiant, Vancouver Island. Including Victoria, Duncan, Nanaimo, Parksville, Courtenay, Comox Valley and Campbell River. Tofino and Ucluelet as available.