Copy updated Jan 6, 2023
The really great thing about the microweddings I've created with my couples is they can be pulled together easily in a fairly short time.  What matters most is that you are together with the people you love the most, celebrating the love you have for each other and the love among you. And the magical things that unfold when everyone is right there with you and for you in a moment that will not pass by again.
While you can have a mini-version of your big event complete with all the fixin's, you can also do something that is adventurous (but safe) and budget-friendly (words that are refreshingly welcome during pandemics, inflationary times, and recessions…:)
Check out some of these stories for inspiration.
Make a Day of It
C&D came from Ontario and made their wedding a family fun day. Starting in the morning with a little hike in to our version of Niagara Falls (!) where as well as getting married, their sons got to officially "adopt" each other. It was relaxed and real and awesomely captured by Laura at Coastline Living Photography.  Then out for lunch and off for an afternoon of whale watching. All wearing "just married" shirts.  ALL of them.  They had a blast of a day.
The forest doesn't cancel out on you…:)
After their wedding venue cancelled a few months before their wedding, M&F decided to do something totally different. They pared down the guest list and invited their closest people to  run away to the Island with them. At a sunset ceremony in Cathedral Grove, amid trees with much history, they added one more layer…everyone helped to marry them: moms, dads and grandmas in partnership.  After: a private dinner at Tigh-Na-Mara.
So much love in that space. Image by Rick and Cheryl from Love You Me Pictures.
Go to Your Happy Place
J+V were supposed to have the big Indian wedding, but Co-vid stepped in, and so did a baby!  They could't take 350 people to their happy place, J's grandmother's cabin on the water, but they sure could take the people who mattered the most for a little Island getaway.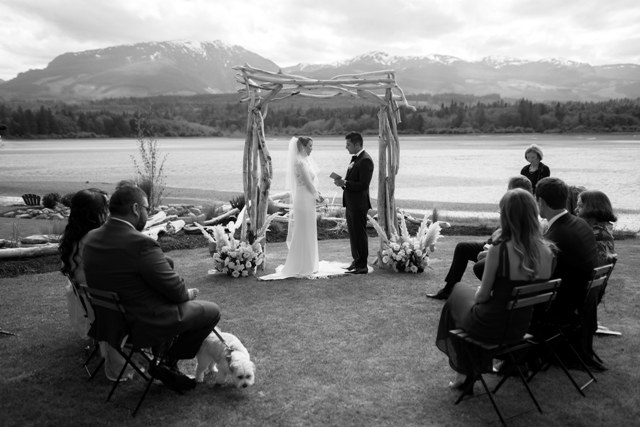 beautifully captured by Meghan Hemstra Photography
Short Notice, with Kids
So much can happen in 60 days (as we've seen in the past few years). But it's quite amazing what you can pull together on short notice, once you get clear on what matters most. P&P, after a long-term long-distance relationship, were ready to marry. And the chance when they and their kids would all be together was coming up shortly. So we gathered in the forest at Lazo Marsh and with a handful of the people they love, cemented their commitment to one another, their children and each other's. Just as they are, it was open-hearted, genuine, caring and inclusive. An honour for everyone there to be part of.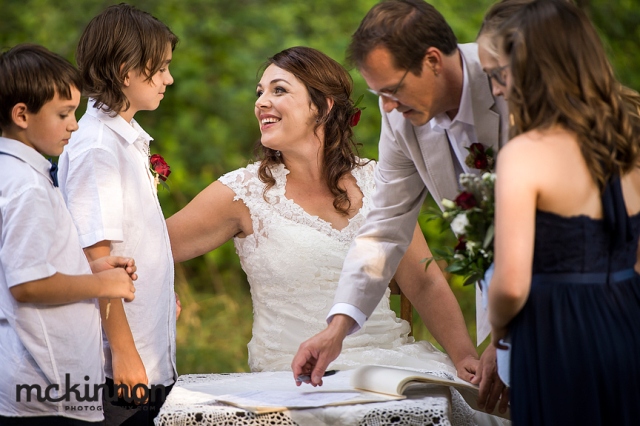 image by McKinnon Photography
Annual Weekend Getaway (+18)
C&N's West Coast getaway every September is their most special-est weekend. When we were brainstorming, we asked "Why not invite the folks (and dogs) they love the most along on their favourite weekend?  Share all their fav west coast rituals?  Make it a relaxed getaway for everyone? And have a nice casual wedding ceremony in the middle of it all?"  After the ceremony, an early dinner at Wolf in the Fog.  Finally, bonfire on the beach as the sun went down.  With s'mores and plaid shirts..:)

Surprise! Surprise!
I LOVE surprise weddings!  They are so much fun to plan, and you don't have to worry about seating arrangements, charger plates, invitations, and all the stuff that can cost a bundle. And the bonus is that everyone will remember your day, that being hoodwinked was actually pretty cool. Very cool, in fact.
Upon discovering that they are not here to attend the groom's 30th birthday event…:)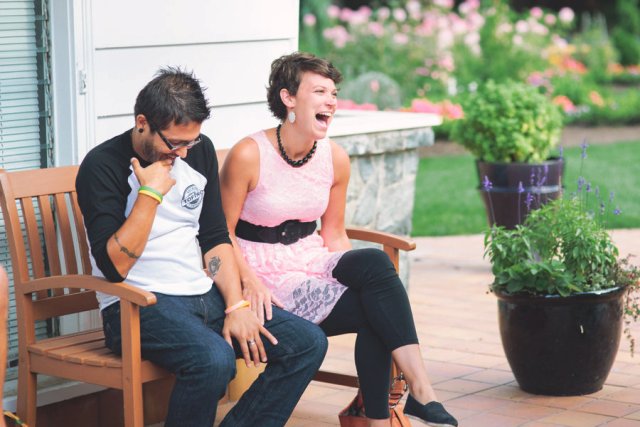 The Nickersons
Head to the Vow Cabin
The Vow Cabin is the choice of adventurous couples who want to get married in a relaxed and comfortable way…in nature. Packages include extra options, but the venue, on the south coast, won't disappoint. Nor will all the other goodies included. If you don't have time to plan, check out the options here.
Adventure Wedding
V+C wanted to get married at a waterfall. So they travelled all over the Island, searching for the perfect place…an adventure in itself. They found it at Sombrio Beach near Port Renfrew. We created their ceremony to be an adventure too…starting at the base and marrying them in steps as we climbed (or scrambled) toward the top. And it turned out to be one of the most remarkable experiences ever for all of us (pretty sure I can say that for everyone.)  Afterward: a picnic celebration on the beach.
Wonderful images by the ever nimble Chelsea Dawn Photography.
"Barbara supported us in creating the ceremony we weren't able to find anywhere else. We spent a couple of years looking for what we wanted until we found Barbara. Her amazing open-mindedness, acceptance, and support really helped us along this whole process of figuring out what we truly wanted for each other and those included. She got our small group of people involved and made sure everyone felt important and that they weren't just watching our marriage happen, they were truly a part of it."  —- Viennamay and Caleb
Modern Metaphysical Minister, Celebrant and Wedding Officiant, Vancouver Island. Including Victoria, Duncan, Nanaimo, Parksville, Courtenay, Comox Valley, and Campbell River.