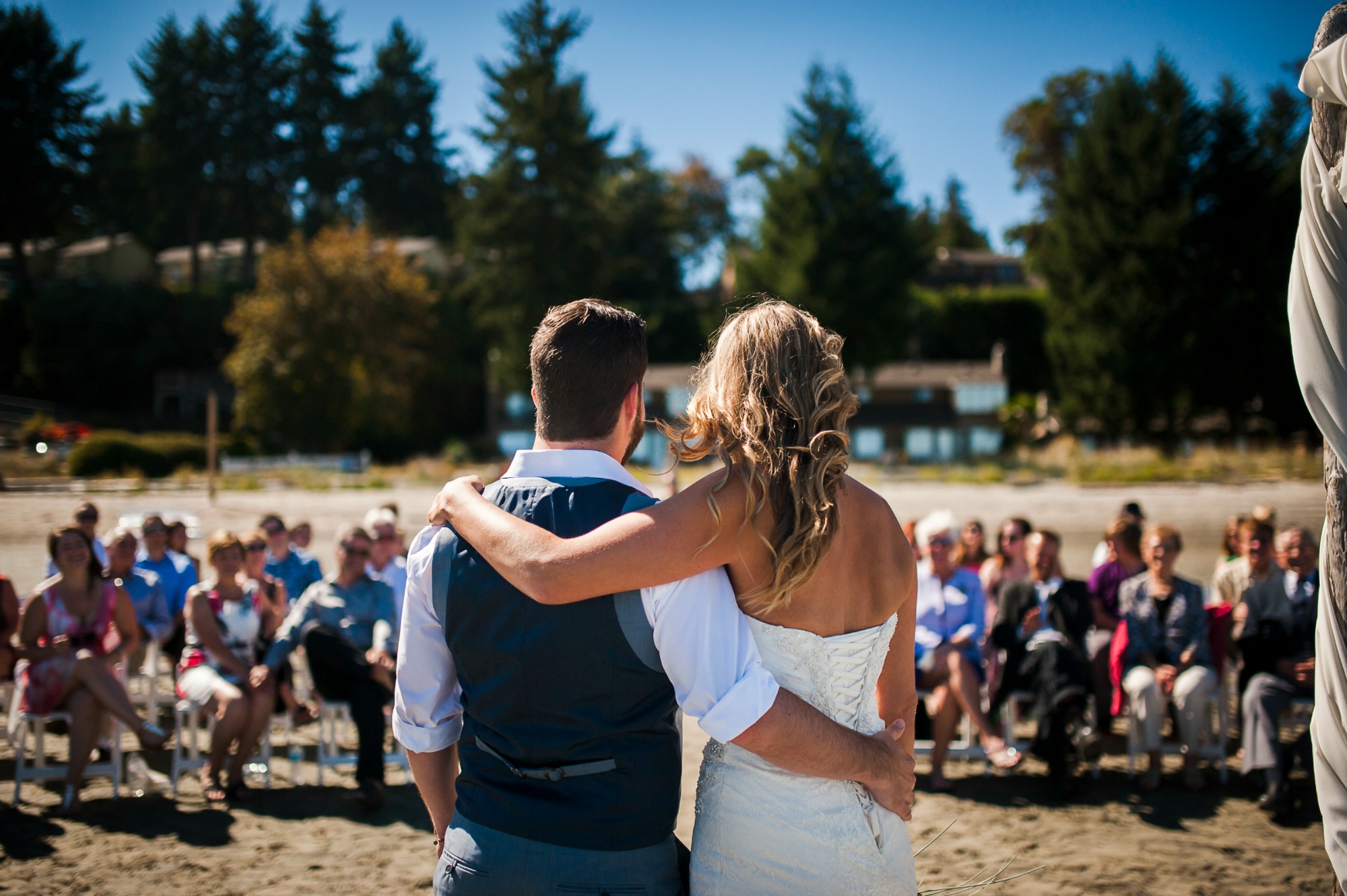 Darshan Alexander Photography.
Fully Engaged
If you are one of the couples that tends to connect with me, you both put a lot of stock into your friends, family, and of course, your relationship.
Your tribe…the people around you…are the kind of folks who would turn up for your ceremony, even if it was 2 hours long and in Swahili (but it won't be…my Swahili is uber-limited…ok, it's non-existent, actually..:) But you "get " what I mean…the people who are coming are as dedicated to you as you are to them.
Just as they are showing up for you, you want to show up for them. To share yourselves, your joy, your promises and give everyone a good solid glimpse into why they are all here (hint: chances are, it's not the table runners..:)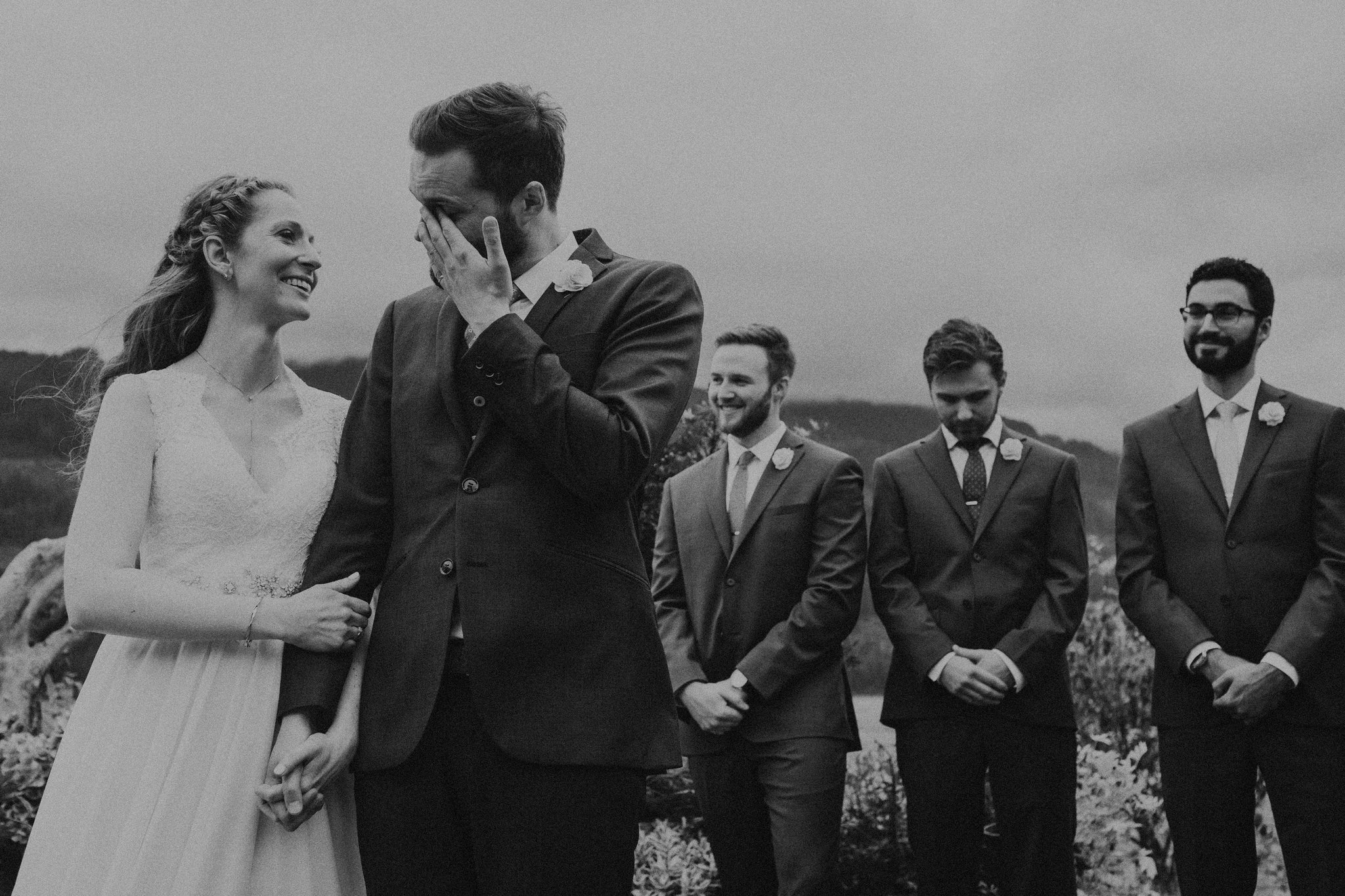 Neville Black Photography
Of course, your ceremony is as much for you as it is for them. Whether you've been together for 15 months, or 15 years, you want to be able to bring yourselves fully to the ceremony. That may mean including your family and friends, your children (2- or 4-legged). Bringing in what means most to you. Stepping into the profound. Blending mixed faiths (even esoteric combinations like Catholic/Wiccan.) Honouring your heritage & traditions…spiritual, religious, cultural. Inviting people into your story. Sharing the absolute joy.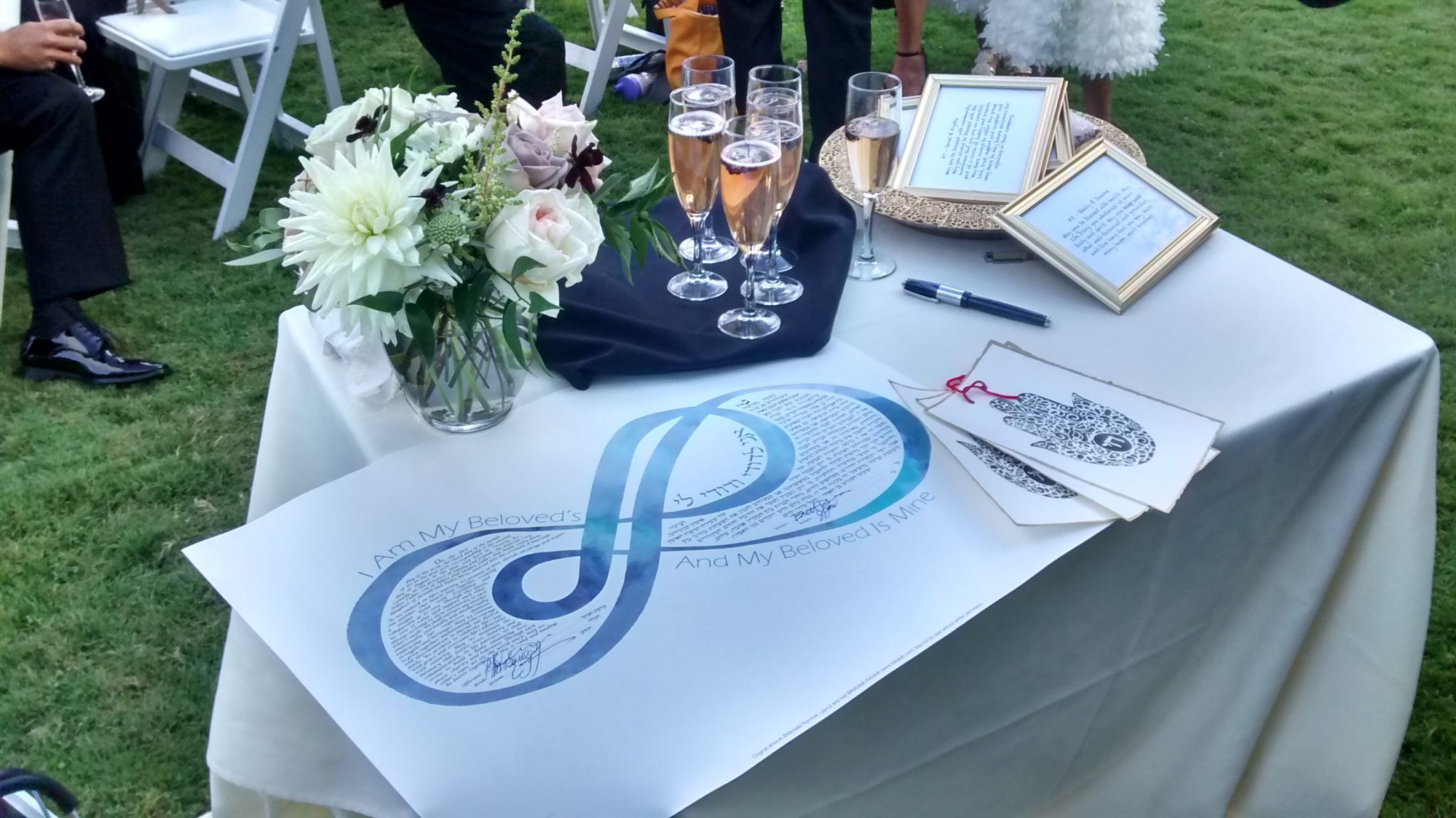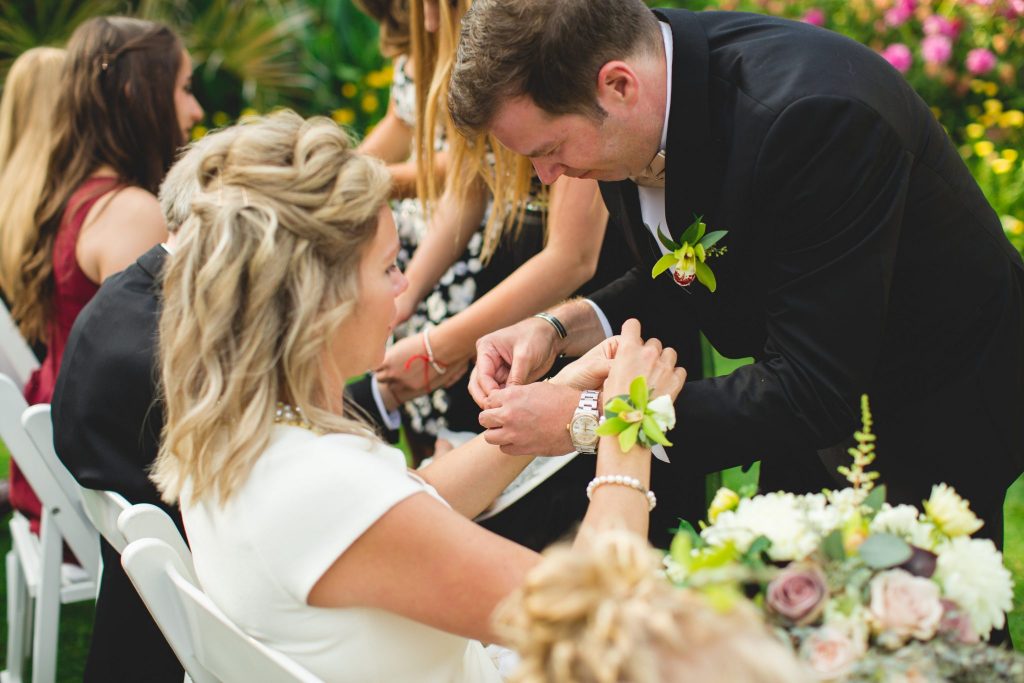 Kim Kalyn Photography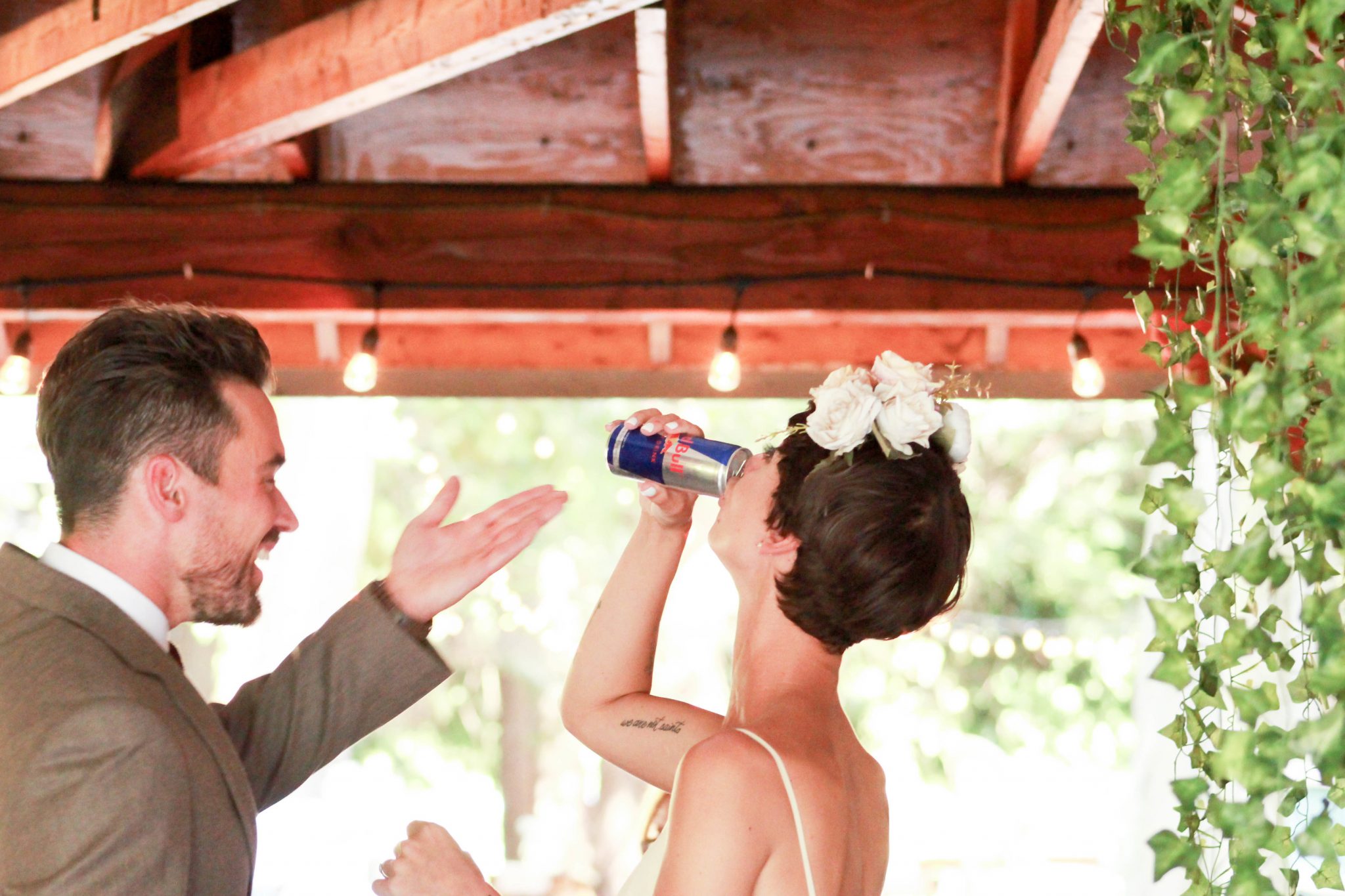 Faganello Productions
But more than that, you want to actually be present, to experience the awe of one of the most authentic and personal moments in your lives. To lodge it in your (and their) hearts.,
So that years from now, you'll be able to say: "I still remember my wedding ceremony." And the people who love you most will be able to say: "yes, I remember it, too."
And as you move into the party, all that joy and love comes along with you…setting the kind of vibe for the day that table runners simply can't..:) (ok I'll stop that line now.)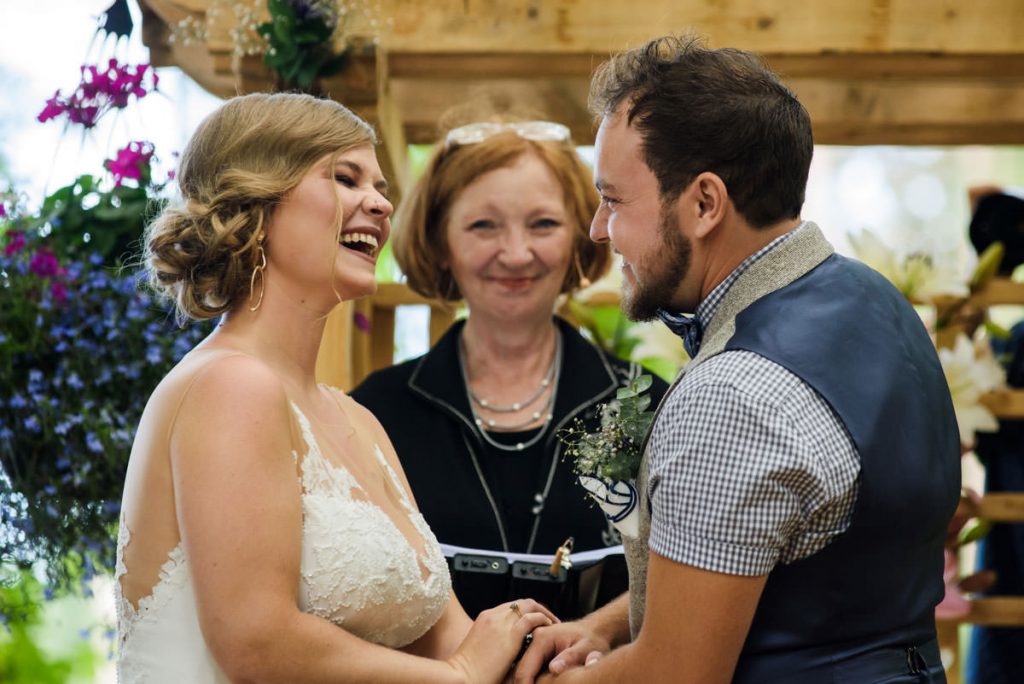 "We felt SO taken care of, listened to, and just loved collaborating with Barbara to create this beautiful special ceremony. It was so personal, so "us", and all of our guests were raving to us about how it was the most beautiful ceremony they had ever been to, how special it was to be a part of the day, and how unique! It was absolutely the highlight of our day, and Barbara made sure we were in the moment during the ceremony – so we'll never forget the experience. Me neither, Julian & Jacob. Wholehearted love image by Funkytown Photography
"I thought it might be easiest to sum up Barbara's contribution to our wedding day with some direct quotes/ comments I received from friends and family after the ceremony – many of whom still had tears in their eyes or were still openly crying, in turn making me cry more. You get the picture – it was a mess, but a good one!
– "That was absolutely, hands-down, THE most beautiful ceremony I have ever witnessed" (these words were said many times over by many different people)
– "That was positively magical. The love and the emotion in the room were palpable."
– "The ceremony was my favourite part of the wedding. The officiant's words, your words, the space – everything felt so heartfelt and magical."
– "I never cry at weddings and I sobbed the whole time throughout your ceremony!"
– "I can't believe how funny, emotional, personal, and how YOU that ceremony was!"
– "WHO is that officiant woman?! She was amazing – like part comedian, part yoga instructor and part spiritual guru or something!"
Stu & Niki, a room filled with love. More images by Sabrina Patrice Photography here.
Wedding Vibes
K+J wanted a ceremony that was full of both joy and meaning. Their own story was as playful as their family stories were profound. We laughed and cried and it was simply remarkable. Beautiful capture by Paper Heart Films.
If you want to see a full wedding video that is planetary (and has LOTS of ceremony stuff in it), check out A+S's wedding day video. And thanks for generously letting people watch how awesome you and your people are, A&S. A work of art by Paper Heart Films.
S&N's backyard wedding was relaxed and whole-hearted. It also included bees and small animals..:) And lots of love. Great capture by Steph and Kati.
Are you having an intimate ceremony with 20 people or less? Check out my Wee Weddings/Group Elopements.
Do you have kids? (even adult ones?) Are you marrying later or after loss? Have you been together for a while? Check out Weddings with History.
Are you a same-sex, trans or gender non-conforming couple? Check out LGBTQ weddings.
Modern Metaphysical Minister/Celebrant and Wedding Officiant, Vancouver Island. Including Victoria, Duncan, Nanaimo, Parksville, Courtenay, Comox Valley and Campbell River. Tofino and Ucluelet as available.