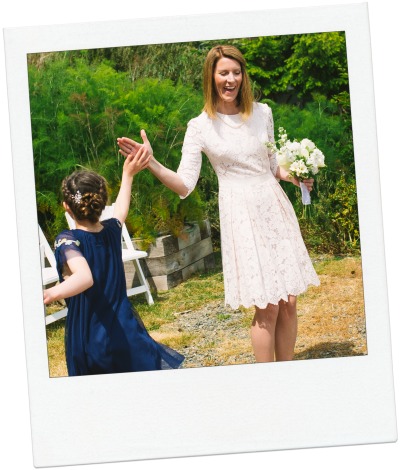 More quiet/introverted by nature, both Jamie and Margaret are drawn out with humour and a relaxed atmosphere. They wanted to get married right next to the ocean with only immediate family present, and when we met, had some specific requests. They wanted:
to walk to the ceremony site with their families rather than having a specific entrance for the bride/groom.
to have their families gather around them rather than having the feeling of being on display.
to feel comfortable and to enjoy getting married.
All quite do-able. And the joy of creating your ceremony along with me, if you are an introvert, is that you get to both dig deep into the process and spread it out, too, so when we get to the ceremony, you are less likely to feel overwhelmed and go into "tilt" mode.  You can be more present.  And you can feel more like the "do-er" than the "done to."
And how they dug right into the process! One of Jamie's stories was of surprising Margaret as she got off a flight with a crantini he had created in the men's washroom at the airport. Too good to pass by, it went into the ceremony.  Then we decided to have some fun carrying it further. So, at the ceremony's end, staff at the Sooke Harbour House appeared with crantinis hidden in Tim Horton's cups, just as in the story.  Whoops of delight from everyone turned into extensive toasts…:)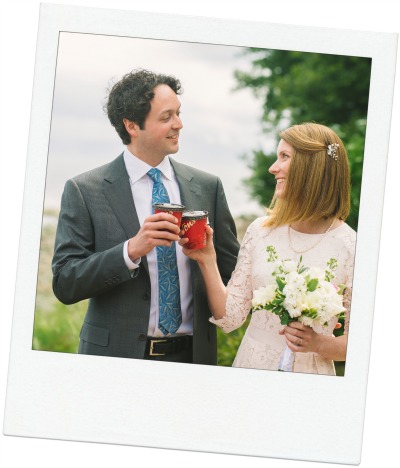 The rest of the ceremony…well, yes, the couple were totally surrounded by their families in many different ways in this interactive ceremony. (The joy of a small group is that the dynamics are totally different… I can explain how if we talk.)
Photographer Gwen Thurston from Funkytown Photography captured the relaxed, casual, and heartfelt sense of the day so exquisitely. Much of her work was catching the moments that mattered most. Lovely lovely job.  You can see more images here.

M&J left me a wonderful review on Wedding Wire:
We knew Barbara was the one! From the get-go, we could see her genuine passion for her work as a Celebrant- she loves people and really understands others- and brings a wealth of career experience. Barbara met with us in person to discuss our wishes for our ceremony (and perhaps most importantly, what we didn't want). Throughout the whole process, Barbara was always incredibly insightful, flexible, supportive, and fun. She gave is an extensive ceremony questionnaire to complete and used this to guide the development of the ceremony. Barbara wrote an incredibly personal ceremony that captured who we are, what we wanted to say, and how we wanted to say it. She was totally open to our feedback, changed what we wanted, and offered excellent suggestions when we felt stumped. Barbara wove a funny story about us into the ceremony and suggested that we incorporate a special toast at the end- it was a special surprise for our guests & brought much laughter! She always remained sensitive to those who would be in attendance and made sure our guests felt welcomed and included. Most importantly she helped us make our wedding ceremony meaningful to us, staying true to ourselves and our values, while marking a very important transition in our lives. We feel so fortunate that we found Barbara. It is an unforgettable day. We cannot recommend her enough! Book her already! 🙂