Updated January 14, 2022
Well Co-vid, you are making/helping us figure out new ways to celebrate. Because even after this pandemic is over, "normal" will be different for us all. Reverse only happens in automobiles (and the odd Kitchenaid appliance). Life moves forward.
Overall
Here is the best government link for all things related to gatherings, events, mask wearing, capacity and vaccination for guests. Often, venue contacts and wedding planners are good sources of information for aspects outside the ceremony.
A more detailed report can be found here.

Ignore any strikethroughs, the links both work!

Do you have guests travelling?
This page contains links to both provincial and national travel guidelines.
---
Weddings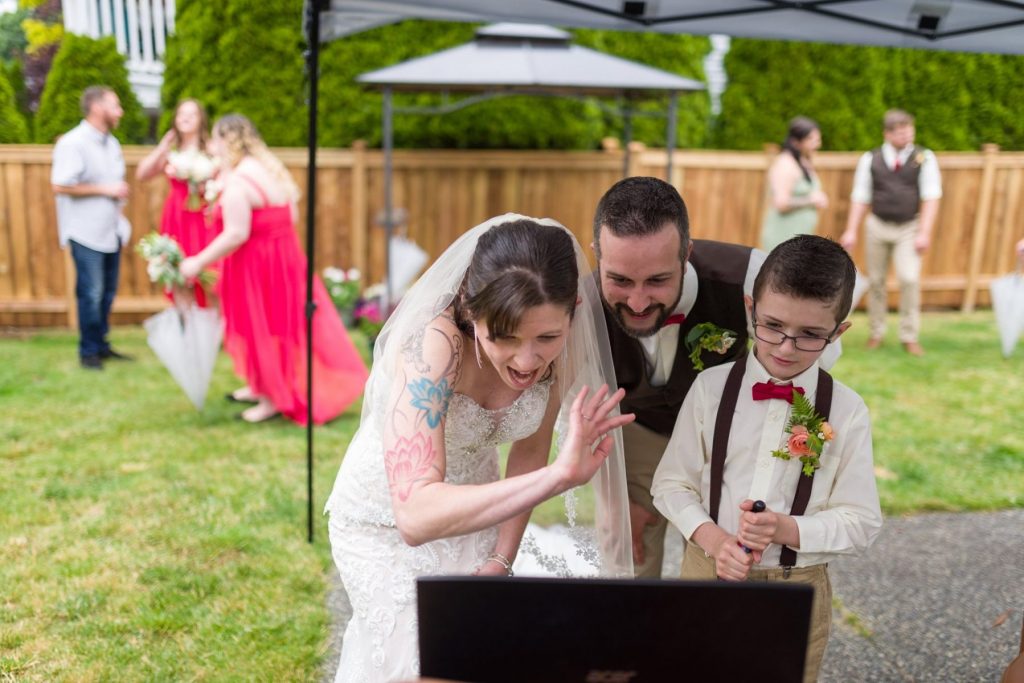 Again, 2022 may well be another year of flexibility.
If you want the huge wedding bash with the indoor dance floor, we aren't sure when that will become an option. Go ahead and book, but plan to stay flexible with your activities if you can.  If your dream wedding guest list is larger and non-negotiable, then maybe wait until 2023.
We all know by now that the alternative options are to either elope (elope now/party later) or to downsize.  The details have been hashed out everywhere, so instead, let me ask you some thoughtful questions:
About You
What happens to your life if you don't get married this year?
How comfortable are you with uncertainty?
Nothing is certain, but how is the pandemic impacing your financial future?
What do you love to do on your own?  What would you love to do, but have never done?  Could that be an elopement idea?
If you can't do the original plan, is there something else you would spend your money on?  Something practical?  Or frivilous?
How flexible can your original plans be?  Is it easier to pivot?  To reschedule?  or to cancel?
How much do you want to be married, on a scale of 1 (not so much)  to 10 (totally)?
About the People You Love
Is there anyone who, either from a health or age standpoint, will influence timing?
Of course you want your loved ones there, but what do THEY want for you?  Would they rather you get married now? Or is being there essential on their part? How comfortable are your loved ones with uncertainty?
How far ahead will you need to plan things to know that they will all be able to attend? To not have to quarantine before/during/after?

What is their risk tolerance around travel?  From a safety standpoint?  And from a financial standpoint?
Would any of them be happier being there now from a video standpoint than later in person?

Some Ideas and Food for Thought
There's an excellent facebook group for couples who are planning to divide their weddings into 2 (get married now, party later).   One Love, One Virus, Let's Get Together and Have Two Weddings.  People ask good questions, provide thoughtful answers. (Thanks Sarah and Travis).
Also, 2022 is going to be BUSY wedding-wise on Saturday afternoon/evenings. If you have your heart set on that timeframe and you are just looking now, be prepared to compromise, because your first (and even second or third) choices may be long gone.  OR consider doing something different….a summer evening wedding on a Thursday, a morning ceremony in a favourite place, followed by a catered picnic lunch (or food trucks).  I've done lots of ceremonies with couples who have chosen to step away from the wedding superhighway (into something their friends all told them later  they wished they had done.). Happy to bounce around some ideas with you if we meet.
If you choose to do something smaller this year, you can:
find creative ways to include your loved ones in your wedding ceremony (that's my job, the options may delight you..:)
use a videographer to capture your event and either:

celebrate it with family and friends on a zoom call. (Some videographers will do a straight capture and a fast turnaround. Ask me about who.)
play it at wedding #2/the party/an event down the road.  Or your 25th Anniversary (pandemic should be over by then…:)

there are folks here on the island who can film and live broadcast. Ask me about them.
and of course you can zoom them in yourself (if you are somewhere with enough bandwidth, so check ahead.)
Some ideas about bringing people to be with you, to start.
If you choose to do something larger later, perhaps ask these questions:
If you have a small wedding now and the party later, what will you do?  Another wedding with the walk up the aisle, wedding party, flowers, outfits, etc?  Or just a party?  What are the elements you really want to keep?  What can go?
How will it look if, say, 2022 becomes a year of massive weddings?  For guests?  For travel? For professionals?  For costs?
---
Memorials and Celebrations of life
We come together, to remember, and to say goodbye. It's what we do in times of loss. We mourn better together than apart. So then what happens when you can't be together?
I firmly believe (and the folks I am serving are discovering) that Co-vid, while on one hand devastating, also has its gifts.  It's slowing us down and teaching us the lost art of grieving.  Helping us learn that saying good-bye is a process.
Sure, you can do an on-line zoom memorial.  But there are other rituals and activities…beyond the tired traditional…that can have more impact.  Active grieving. There are a myriad of ways of saying good-bye. To come together and remember. To tell stories. To listen and remember.  And along the way, to actually create a real and honest tribute that may be more personal, more real, more memorable than you ever imagined pre-co-vid.  Because now you have the time to.
And everyone can come out of the process stronger. I can help you, whether it's a zoom storytelling session or mapping out a really fitting way to honour a life now and in the future when you can come together.  More coming.
---
Other Celebrations
People often celebrate with hugs. And if you are a hugger (like me), a celebration doesn't feel great without them.  But…there are ways to do powerful work without personal contact.  More on this in my CHLY radio interview from May 18, 2020.