2021 was another year of flexibility.  Here are some Pandemic Plan B's that became some pretty cool Plan A's. Food for thought.
M&A: Big Traditional Wedding to Adventure Elopement, with a Family Send-off
More images from McKinnon Photography
Original plan:  150+ guests, M to arrive via canoe to her wedding on Comox Spit. But when Co-vid hit, the couple had no idea how to trim the guest list down; they didn't want to offend anyone. Photographer Karen McKinnon wisely suggested a solo adventure…something they have never done before…something unforgettable…like getting married on a mountaintop. Something that allowed them to focus on their love for each other (cause that's what getting married is all about…:)  And perfect for a couple so very much in love.
We did a handfasting, blending the 2 cultures: Scottish and Aboriginal. They got to appreciate what they love most about each other. And play on this ledge a mile up from sea level. When we arrived back, some of their closest family members were at the helipad cheering and waving as we touched down. Unforgettable? Absolutely.
T&R:  delayed, downscaled and then cancelled 2021.
More images from CB Photography
The original plan: 120 people at Merridale was booked 18 months ahead! Their ceremony already written when co-vid hit. They decided to delay until the same date this year. Then they bought a new home; wanted to live in it as a married couple. And get married there to symbolize their new life.
So…we pivoted. Adjusted their ceremony to a tiny one in their new back yard. Zoomed to 90 family and friends around the world.  The local folks (it would seem) logged in from their phones bc as soon as the ceremony was over, there was a parade down their street.
The plan was to to do a larger do-over back at Merridale June 2021, but their wedding toast announced a baby on the way! So another pivot, bc their hands will be full and the dress may not fit…:) They let the 2021 date go.  On with their new life.
A&S:  stayed the course, with a few pivots (and surprises)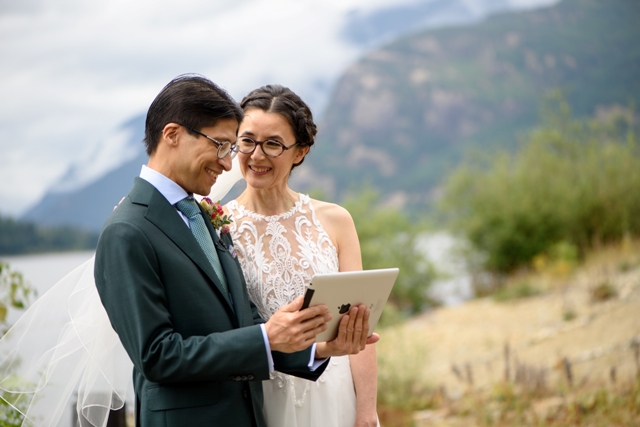 both images from Naomi Maya Photography
A&S' families live all around the world, and their plan was to bring them (together) to a place that meant a lot. Strathcona Park Lodge is the perfect place to get away from technology. They knew it could be a few years before international travel becomes safe. If they pivoted to another place where they would be able to zoom in their loved ones, they'd have to give up one of the elements that meant the most. And they had a month of wilderness adventure planned and booked as a honeymoon. So they decided to just go ahead.
Luckily, they had hired videographers  Evergreen & Bound, and when I suggested some surprise ideas, Breanna & Grady jumped right in. So while the couple thought everyone was sending e-mail messages, their loved ones were actually creating videos (with our help…:) Their mothers gave their blessing together via an iPad, and over dinner, messages came up from around the world. We came up with some other rituals that brought everyone to be with them.
They got to feel connected to the people they love in a wilderness setting, and everything was recorded to be shared later. But first, a month of hiking and canoeing…:)
L&T:delayed and then pivoted back with a smaller guest list
more images from CBPhotography
L&T's original plan: 60+ for a camping weekend on Newcastle Island…they decided to set it back indefinitely until co-vid passed and they had their separate homes sold.
Instead: L got (unexpectedly) pregnant, they realized they had 3 weeks booked off with NO OTHER plans. And hey, they just wanted to get their life together started. So, we pivoted, headed back to Newcastle around their original date, and brought along the people who mattered the most, and a fair bit of rain (a.k.a. tears of your ex's…:)  No camping, but a private dinner at a restaurant in the Nanaimo Harbour and some weekend adventures on the water..
S+T: Changed the date and Eloped on the West Coast, Party Coming Later
S&T's original plan was for a full wedding at Sea Cider in December. When co-vid hit, they figured they were safe, but  ultimately realized that their plans were a likely wash. When WILL people be able to travel? to get together?
Instead: they decided to split the celebration in 2, get married now, and have the party later, when cross-country family can travel. That allowed them to change both date and venue to ones that had special meaning for them.
So we rewrote their ceremony in a way that  brought their family to be with them on their wedding day. Rather than video broadcast, they simply zoomed family across the country while getting ready.
And then they got to enjoy the day with their favourite person,  their 2 best friends and the most photogenic dog on the West Coast.
They are planning a celebratory party later…not date set.  They've had enough date changes so far…:)
More images from Red Cedar Photography (coming)
K&K: last minute elopement became a family wedding
K&K originally decided to use the pandemic as an excuse to elope. We played around with a few adventure spots around the Island. What came out was while they didn't want a big wedding, they actually wanted a tiny one. Immediate family only.
More images from CB Photography
Within a couple of weeks, they had a private waterfront venue, a really personal celebration and a couple of days with the folks they love most.
This is K's way of trying not to cry while she is  laughing.                                                                                                                                            
K+B: Delayed.  Eloped with kids and dogs
The original plan was to chase waterfalls on Vancouver Island, like they did on their first adventure together. Only this time, to elope. In March. Uh oh.
We just hit the pause button, and waited it out (that's the cool thing you can do with an elopement). And look for waterfalls on-line…:)
Waterfall season is spring and fall.  A specific October date was meaningful, in we hiked in to a secret spot with kids and dogs and outfits.  A real adventure.
Image by Chelsea Dawn Photography
R&J: Downscaled from BIG to tiny.
R&J's original plan: 200+ people, traditional big wedding. "Instead of postponing our original (and unwieldy) plans, we proceeded with an intimate backyard ceremony."  And it was all about family. They chose a date when her grandparents were visiting from Calgary.  Included all their family members, both in person and in spirit…her father, and his parents who both passed last year.  All captured on video to share later…however they want.
(awesome capture, Paper Heart Films)