"I am convinced that it is not the fear of death, of our lives ending that haunts our sleep so much as the fear… that as far as the world is concerned, we might as well never have lived." Rabbi Harold Kushner
Harvard educated theologian Stephen Jenkinson, a leading Canadian palliative care educator and author says in his film Griefwalker that for many people in their last stages of life, there is one fear greater than dying – that they will not be remembered.
Our highest honour as humans is to remember our dead. Once they are gone, the house is sold, the clothing is given away, the papers are signed, all that's really left to us is their memory. It may be attached to a treasured possession, captured on film or in voice, or connected to something they created. But where their memory lives best is in us: in the story of their lives.
Many of the moments I am humbled to spend with with people are, in fact, some of the most personal moments in their lives.  I'm pretty sensitive about what I post…it's important for me to protect people's privacy.
And yet, this past year, as I went through my own loss, I had a sense that I wanted to share.  Share the awesomeness of love, of coming together, of remembering, of family, of friendship.  Of a life well-lived.  Of a life remembered. And so I share this eulogy with you.
David Allan Densmore
February 17, 1955 – August 14, 2015
A Remembrance
Early last Saturday morning, right after his daughter Amy called me to give me the news that Dave had passed on Friday night, into my inbox came this week's copy of Maclean's magazine.
The leading article? "Why gratitude could be good for your health"
The gist of the article: as humans, we are hardwired to see the negative in life.
Goes back to our days as hunter gatherers… always on the watch for elements of danger in our quest for survival.
Negative experiences weigh more on our minds than positive ones, so much so that some psychologists figure that it takes 3 good emotions to balance out a single bad one.
Apparently studies are proving that good emotions are the key to waaay more than just happiness in life and with others…they will improve your health and make your brain function better, no matter what your age.
And the doorway in… is gratitude.
You can't just turn an internal switch and say "Ok, I'm going to be a grateful person now." Or "No more fear, frustration, and anger…it's all appreciation from here on in."
One of the tools healthcare folks are using are gratitude journals…at least once a day, you sit down and write out, based on what's happening, what you are grateful for.
At least 3 things.
I guess it's like a way of "counting your blessings."
The whole thing, of course, got mixed all in with thoughts of my brother.
How maybe at the end of life you most realize what you are most grateful for?
What he'd be writing in his gratitude journal if he was that kind of guy (but he's not..:)
And I've been thinking about that ever since.
Been thinking about that as I go through my days.
And as I listen to everyone's stories.
So, with great gratitude I'd like to share that with you now.
1. Dave was grateful for his upbringing
Not something we thought of as children, but as we matured, Dave was just as aware as I was that we had won the parent lottery.
They say that the family you are adopted into is better in every way than the family you are adopted out of.
We were lucky to have parents who wanted us, who supported us in every way they could. Who were always there for us, and for one another.
Whose hearts were almost too big for their bodies.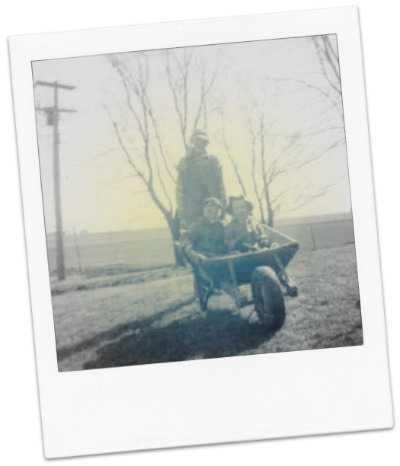 They brought Dave home from the Hamilton hospital to the farm on the second of Luther.
Poppa was still farming while ramping up his electrical business.
Our hired hand…a funny little Englishman named Harold Lee, would ride us down to the barn in the wheelbarrow.
He had a Norton motorcycle he took to town on Saturday nites (the big shopping evening).
Sometimes Mom and Dad would need to follow him home, because after a few beers at the Queens, he had a tendency to slide off into the ditch.
I tell you all this because David's first 2 full sentences were about Harold:
1. "Harold hop on motorcycle and ride."
2. "Harold broke stovepipe."
It was a pretty normal farm life: Buster the collie loved Dave but didn't want to play Roy Rogers and Trigger.
Our black cat Nigger (wasn't every black cat called that back then? Shows how far we have come in 60 years) seemed to perpetually bear trios of kittens that were always named Fluffy, Duffy, and Snuffy.
The cats would sit and wait while Poppa milked the cattle…he would aim the teats directly at their mouths, like a fire hose.
We loved to watch, and sometimes got squirted too.
Poppa's electrical business was taking off enough that my folks decided to move into town in time for Dave to start public school.
They hired Darlene's father Lloyd to build the house, and we rented at Walton and Clark while it was being finished.
It was only a matter of days before Dave met the red-haired kid 2 doors down…Robert Orr. They immediately became inseparable, and started a chain of adventures and absolute friendship that would last a lifetime.
What seemed to be a fairly normal life then, as I look back now, was pretty special.
Sunday drives and outings…never far but always interesting.
Family vacations every year.
Lots of cousins…the big Densmore family.
Dave sang in the church choir, wearing a little white gown.
Took piano lessons from the Baptist minister's wife, who could make any piece of music sound like it belonged at a revival meeting.
When relatives came for a visit, we would stand in front of them and sing the Cascade 40 Electric Water Heater commercial (yup).
He won prizes in the Junior Horticultural club. (Well, ok that was my mum, but he got the credit… 🙂
But none of that…or school…even came close to his growing love for anything active and outdoors.
A free-range childhood.
Softball, football, bike riding everywhere, wandering and creek fishing (you could get almost up to Petherton from our backyard).
Tree houses (he and Rob built one right about where your driveway stands now, Leanne & Doug.)
Snowmobiling for miles out in the country …sometimes with a flying saucer attached on behind…no drivers licenses needed when they first came out.
The crystal clear water at Hope Bay full of trout below from the family boat.
Although there was a little side trip…the rock band in grade 8.
I suspect it was because of the influence of the "cool older guys" (what was the name of that band? The 18th fluid ounce?
He got to put his piano lessons and choir experience to good use.
(Rob Orr, Dave Goulding, Merv Hawkins)
Anyway, their plan to step into their shoes on stage never really went anywhere.
They never even got out of our basement, and I don't know if they learned any songs beyond "House of the Rising Sun" and "Spirit in the Sky."
My mother made countless toasted western sandwiches to fuel their energy.
I was their groupie..:)
Of course, all that turned into Pink Floyd, Black Sabbath, button-front jeans with patches and decals, clunky shoes with platform soles.
Cheech and Chong, DuMaurier cigarettes,
By the time he was in his teens, Doogie was a pretty cool guy.
I once heard someone mention "the Densmore head of hair"…and he certainly had that back then.
2. Dave was grateful for hockey
Softball, lacrosse and hockey… Dave played them all.
But hockey captured his heart.
Atom. Pee Wee. Bantam.
He and Rob actually went to Dave Keon/ Billy Harris Hockey School.
They didn't care about Harris…he has been traded from the Leafs to some backwater team…the Oakland Seals.
But Dave Keon…well, he STILL played for the Leafs.
Oh, the beloved Toronto Maple Leafs.
Dave's loyalty never waned.
The Arthur Eagles, though, had a waaaay better track record at getting into the playoffs than the Leafs ever did.
#11, centre, playing with the first line…Breeze Rooney and Cal McDonald.
When Dave was on the ice, he was pure magic.
He danced, he jumped, he raced, he stick-handled, he scored.
And he was consistently one of the top scorers in the league.
We went everywhere…from Wiarton to the Six Nations.
Made us all proud to be from this little town.
3. Dave was Grateful for His Friends
Once you were in Dave's life, you would never leave.
He was loyal to his friends.
Happy to be with them, easy going and jovial.
A good team player, always played fair.
Liked to laugh.
Everyone liked him.
Good with one-liners.
Always there if you needed him.
You all have stories and I am sure we are going to hear some later.
But for now, a few snapshots.
Jim Janssen yesterday told me about the time they went to Merv Hawkins cottage at the time when streaking was taking off.
They decided…4 of them…to streak over to the neighbour's cottage and back.
Seems they forgot that you are supposed to do it in front of a crowd.
Instead, they just did it in front of each other.
Bob, lifelong friend, annual hunting trips…where they DID finally bag a moose.
And after we lost Bob and Poppa, he just kinda took on a different role, hanging with Bob's dad Garth.
His second dad.
The year after high school when there wasn't much work, and he and Grant Wright decided to set up a business cutting firewood in the bush at the back of the Wright property.
Except they seemed to spend more time in the shack, playing cards and tippling a bit.
He and Grant were talking the day he passed and his remark?
"Yup, that was a really good money making deal."
4. Dave was Grateful for Darlene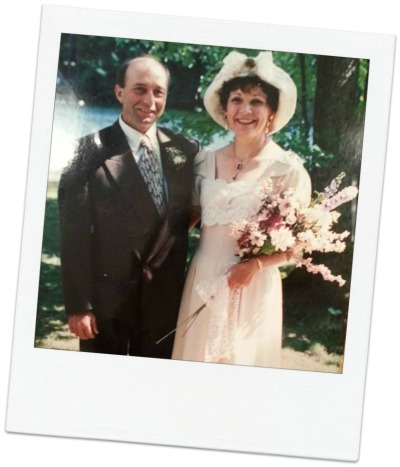 Actually, Dave was beyond grateful for Darlene.
The love of his life.
The centre of his world.
His very best friend.
** To Darlene
When you got connected, Dave was rudderless…feeling lost in life.
A failed marriage, an acrimonious split, a 3 year old and a 1 year old.
He didn't know who he wanted to be, and in his pain, he was drinking.
And you were trying to leave a horrible marriage.
The night you connected, you ended up just driving around, talking. Really talking. You drove around and talked until the wee hours of the morning, ending up at the truck stop in Teviotdale for breakfast.
A few days later, you were walking home from downtown.
A block away from the house, Dave stopped and asked you if you wanted a ride…
You got in, and drove and drove again, talking comfortably.
That was 32 years ago, and you've been talking ever since.
And driving. Sunday drives, up to the cottage, to a fishing spot, bumbering around.
Sometimes saying nothing for hours, but totally comfortable in each other's presence.
And when you were talking, you were often laughing.
And you managed to find ways to laugh together right up to the very end.
Darlene, you were Dave's rudder…you gave him a purpose.
Showed him that real love is less shiny and more solid and simple.
Helped dust him off when he stumbled…and he did…and always had his back.
Gave him decent haircuts as the Densmore head of hair started to shrink into a halo around his head..:)
Held his hand when he didn't feel strong enough on his own.
Helped him become…as you told him at the end…"the best husband you ever could have wished for."
There is no word in the English language big enough to describe his gratitude for you.
5. Dave was Grateful to Be a Dad/Granddad
Dave wasn't quite ready to be a dad as early as he was.
Hadn't really even learned to be a dad when his kids…Mark and Amy…left town.
He saw them every second weekend, but they never lived together again.
** To Amy
Amy, the most time you've ever managed to spend with your dad was the past 3 months.
Seriously awesome when you think of it.
You and your husband Chris, and your daughter Olivia moved back from Mississippi after 5 years there, taking a suite in Dave and Darlene's rental house down the street.
You came home because you wanted to be with family.
Dave would stop there on the way home from work, so happy to see you.
He adored Olivia.
He was so grateful to have you both within hugging distance.
And grateful that you've married not just a stellar guy, but an electrician too..:)
Amy's Face book post
Dad, may you rest in peace. No more suffering. You definitely didn't deserve it. Know I will always be your little girl and you will always be with me. I loved having a little bit of time with you since I moved back home. I will always love you.
Love.
"the big aim waa"
Mark, Dave's son came early this AM to say goodbye.
His life has been rudderless, directionless, and painful.
Mark, Dave would be grateful you were here.
Leanne, Danielle, and Kristin, you each had your own relationship with Dave.
Leanne, you and Dave literally lived and breathed to prank each other.
Christmas morning, everyone would wait as the gifts were opened.
From you, a pendant made with the tooth he had just lost at the dentists.
From him, a set of "turd" jewellery that you, of course, wore to his birthday dinner.
I managed to find one of your gifts to him…this lovely belt made from a car seatbelt and studded with beer caps. (Hey, you just got pranked…)
Kristen, you wrote this on your face book page:
To the man that came into our lives and loved our mother when she needed it most. Took us in alongside his own children, loving us all the same. The man who taught me how to fish, how to drive, and helped me with my homework. Loving husband, father, stepfather, grandfather and friend to many. Your life is no longer about time or money, us and them. You are off to that great gig in the sky.
May you rest in peace and travel to the Dark Side of the Moon and back.
The big "musquah" is waiting for you!
You will be greatly missed.
All my love forever.
Xo
Kristen
Dave loved being part of your family, bumpy and smooth.
And he was as excited to be a Poppa as if they were his own kids.
Jack and Emma.
Grace, Olivia, and Madison.
And Wil, who came along last fall.
Grace's Facebook Post
Poppa, I love you so much and I miss you so much already. I will cherish all the times we had together. I wish we could have had more time together, but I'm happy you're not in pain anymore. You'll always be in my heart, and I thank you for everything you've done for me. Rest in peace, Poppa.
Love,
Grace
The End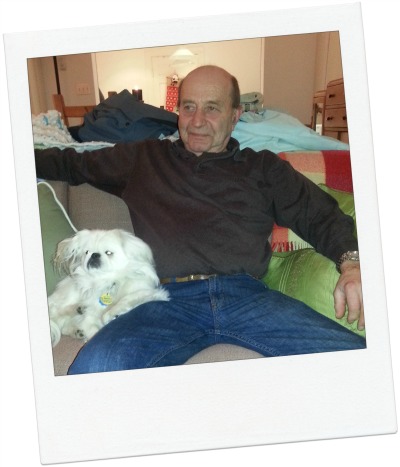 Okay, so I'm going to go back to the beginning to begin the ending.
That we had won the parent lottery became more and more obvious as years passed.
He would have coffee with them every morning before work.
And even after Poppa retired, Dave still stopped by in the AM when he could.
He was a constant presence in their lives.
He was with them as they each went to hell and back at the end of their lives.
And it broke his heart.
That's a big part of the reason why, when he knew his body wasn't going to make it, he chose to go….and to go quickly.
To save everyone the pain.
His explanation? "I don't want to be just a laying around asshole."
And that would be Dave.
He left on the night of the new moon…the darkest time of the month…from then on the light grows to fullness.
6. Dave would be Grateful for You
So there are 5 things I know my brother was grateful for.
And I know there are countless more.
If you want to give this a shot, aim for the 3 recommended, there are cards set about everywhere, just grab one.
One last thing Dave would be grateful for before I end….
For Dave, to see all of you here would be overwhelming.
That you would show up to be here for him.
Each and one of you touched his life in some way, as did those who are here with us in spirit today.
You have made memories with him.
You've been there with/for him, in good times or bad….and there were plenty of both.
You've helped to shape him into who he became.
The best husband you (Darlene) could have ever wanted.
A good team player.
A loyal friend.
A prankster.
Quick with the quips.
A loving father and Poppa.
A man whose heart was almost too big for his body.
At the time Dave passed, this dropped into my Facebook feed:
"How lucky I am to have something that makes saying goodbye so hard." (Winnie the Pooh)
Made me remember this Dr Seuss quote: "don't cry because it's over. Smile because it happened."
Both sound a little trite right now, but I think what they are telling us is this: invite gratitude to come hold hands with your pain.
Perhaps this sums it up best:
"If the only prayer you said was thank you, that would be enough." (Meister Eckhart)
–delivered with love on August 26, 2015