Elysse Anna Photography
Handfasting, for many people, popped onto the radar thanks to the 1995 movie Braveheart.  In actual fact, it is perhaps one of the oldest wedding traditions.  In Europe, until the mid 1700's, few unions were sanctified in a church or synagogue. Rather, they were celebrated by a simple hand fasting ceremony, which often marked the betrothal or engagement period ("a year and a day").  Sometimes handfasting was used again to finally bind together a couple as husband and wife.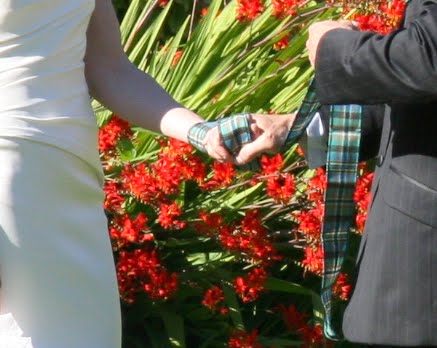 Today, there are a variety of ways to add handfasting into a wedding ceremony:
A traditional ritual using a single cord, scarf, or piece of fabric
Or use different cords, colours or keepsakes that are meaningful.
Tie yourselves together.
Or have your special people take an active role in the ritual.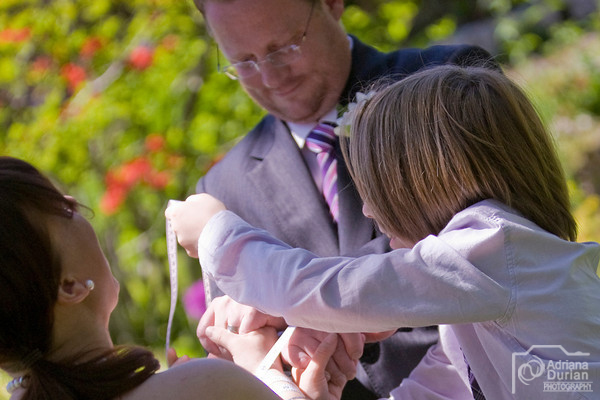 2020 Update
Wow, it's hard to believe that it's been almost 10 years since I wrote this post!  And so many handfastings since then!  We've used climbing rope, measuring tape, handmade cords, bicycle inner tube, and yes, even a set of (real) handcuffs.  We even used a bride's veil in a group handfasting when we ran out of cord…:)
If your wedding is being delayed due to Co-Vid 19, consider these:
Do a handfasting elopement if your original day is important to you. It can be a legal wedding ceremony or simply a symbolic commitment ceremony, depending upon the actual day you want to be married. It can also be zoomed to special people who want to be there, but can't.
If you are using the services of someone like moi, the handfasting can be tied into your later wedding date (the couples I am talking to don't just want a party, they want a real ceremony on that date…the walk up the aisle, the wedding party, all that stuff.)
There are lots of ways you can "tie the knot" and keep your days linked together. Who knows…maybe it will turn into an annual ritual?
Or…if you aren't delaying…just looking for a way to get married that is real and true, consider waiting for a bit and holding a wee wedding/group elopement, where the people you love the most (up to 20) can handfast you together.  Lots of ways to do this, all of them chock full of love. And a way to get married that everyone will remember. Forever. I promise you that..:)
Modern Metaphysical Minister/Celebrant and Wedding Officiant, Vancouver Island. Including Victoria, Duncan, Nanaimo, Parksville, Qualicu,m, Courtenay, Comox Valley and Campbell River. Tofino and Ucluelet as available.