I'm in the midst of designing a handfasting ritual for a lovely couple who asked me to describe the photo on my site, and then said: "We want that!"
Handfasting, for many people, popped onto the radar thanks to the 1995 movie Braveheart.  In actual fact, it is perhaps one of the oldest wedding traditions.  In Europe, until the mid 1700's, few unions were sanctified in a church or synagogue. Rather, they were celebrated by a simple hand fasting ceremony, which often marked the betrothal or engagement period ("a year and a day").  Sometimes handfasting was used again to finally bind together a couple as husband and wife.
Today, there are a variety of ways to add handfasting into a wedding ceremony:
A traditional ritual using a single cord, scarf, or piece of fabric that offers a powerful symbol of commitment.
Beyond the traditional, different cords, colours or keepsakes can be used to speak to what's meaningful in your relationship.  Your children, parents, or special people who are not part of your wedding party can take an active role in the ritual.
Handfasting can also be included into your vows, giving you an profound way to make heartfelt promises and to confirm your commitment to each other.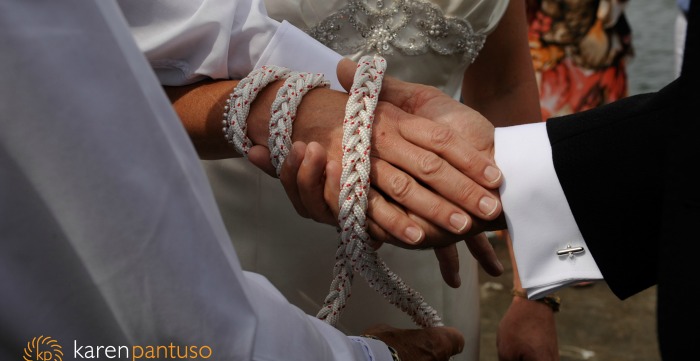 As with many other rituals, the process of creation is so very rich.  What will bind you together as a couple?  It may be very different for you than for others.  To both know and to commit to what is uniquely yours is a mighty statement, both to each other, and in front of those you love.
And all that aside, when someone uses the phrase "tying the knot", you can respond nonchalantly: "Been there, done that"…!