Chelsea Pope Photography
What fascinates me about elopements is how people assume that you want to get things over with quickly, that because you don't have an audience, that somehow the process of getting married is less meaningful.
In fact, it can be even more meaningful, because you really get to say what you want to say. And do what you want. Do what YOU want. In a way that feels comfortable, natural, and totally you. And maybe includes the total awe of the place you choose (because we have some of the most breathtaking settings on the planet here on Vancouver Island..:)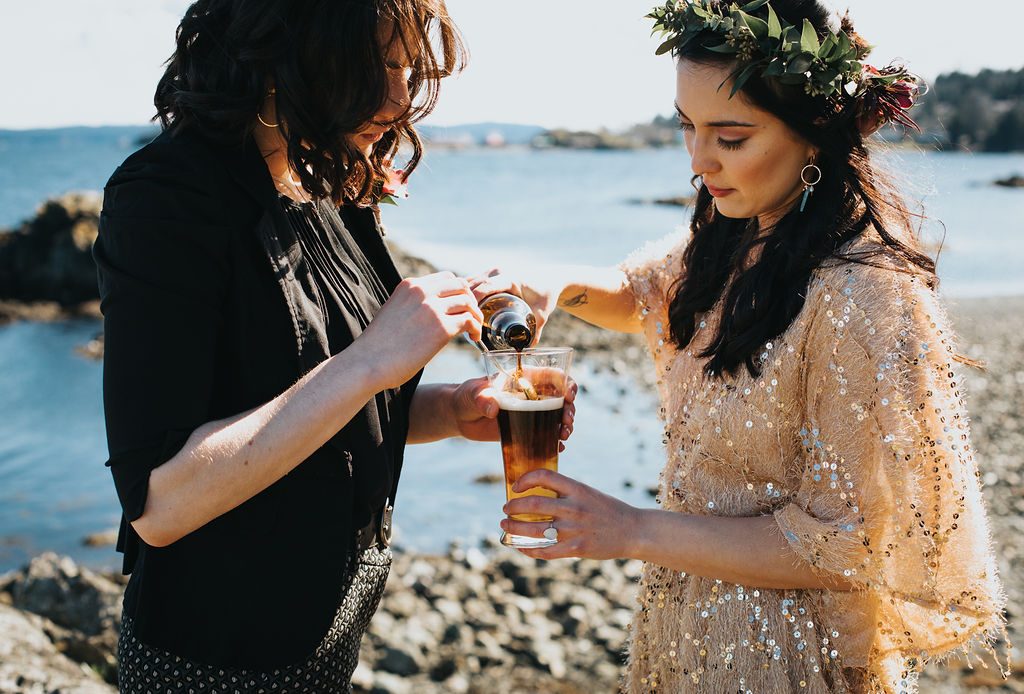 Elyse Anna Photography
But it's not just the setting, but the experience.Of getting married in a way that just feels right for you.  (Even if you don't know what that is right now.) (Or maybe you have a fuzzy idea…we can work with that…:)

But beyond that, it's about having that moment when time stands still and you can just drink it all in: what got you to this moment in time, who you've become together, your love for one another, and your intentions.  All in a way that allows you to actively marry each other (I can explain that when we talk).

Chelsea Dawn Photography
We can take longer and savour the process. Or do something pretty quick!  Whatever the adventure, we will hold hands and come up with an experience that is perfect for you.
Elopement Vibes
J+M  wanted to not just capture their elopement, but their story and their life…a wonderful way to celebrate when you're not having a party. (You can still share it with the world, too…:)  Incredible work by Paper Heart Films.  At the Vow Cabin.
N&J downscaled to a sunset ceremony, and weren't sure if there would be a larger party later. So the moment was beautifully captured by Karen and Jesse at Painted Sky Films.
Bringing more than 4 guests?
Just bringing the people who matter most?  Awesome!  I call these "Wee Wedding Ceremonies".  The dynamics are totally different than  a ceremony with more people…and a simply remarkable way to get married.  I can explain better if we meet.
How we will work
I'll not just be your wedding officiant, I will also be your sounding board/concierge…I know some amazing spots for ceremonies, and have a nice rolodex full of wedding pros who love elopements as much as I do, and photographers and videographers who are the very best at capturing the moment.

You will need to bring your licence application  (details here), your rings (if rings will be included in your ceremony).
I have a few good-natured seniors who can be your enthusiastic witnesses for a small honorarium. (hugs are free..:) Or we can find some witnesses along the way.

In most cases, I will supply you with a nice keepsake ceremony at the end, so you can share your ceremony with your family and friends upon your return.
Are you a same-sex, trans or gender non-conforming couple?  Check out LGBTQ weddings.
Modern Metaphysical Minister/Celebrant and Wedding Officiant, Vancouver Island. Including Victoria, Duncan, Nanaimo, Parksville, Courtenay, Comox Valley and Campbell River.