I know, I'm not crazy about the term "mature" either. But the  alternatives on thesaurus.com aren't much better: ripened, seasoned, prime time…:(  Egad.
Whatever the term, you've had enough time to get to know yourself well. And you know that this time, it's more about sharing the love than it is about table centrepieces..:)

It's more about how dang lucky you are to have found someone to walk with you through the rest of life.  Someone who loves you for you. Someone who accepts and supports you. Who is as grateful to have found you as you are.
Marrying this person is a complete honour, and this moment is one you want to experience fully. You want to be present, to show up 100% (or more). And you want to etch it in your memory, so you can close your eyes and savour it again.
And it's also…just as pivotally… about bringing together the people you love the most and spreading the joy around…sharing the love…seeing them all connected together and realizing that they will be a community for a long time to come.
There may have been loss in your past, and there may still be some tender spots in your family. That's ok…normal even…and we can treat those with care.
The joy of this whole process is that we'll create together. And ripened people (egad) seem to enjoy co-creating stories, and rituals.  And ok, maybe the odd table centrepiece..:)  (I say that because the groom made a bunch of ropes for the ritual in the top pic, and I teased him about how much fun he was having.  I still wonder if he got a Pinterest board..:)
"Barbara is like all my favorite teachers, she asks the best questions to help us co-create a ceremony that had and still has great meaning to us. Even though we supplied the bulk of the content, Barbara put it all together in a holistic (whole-istic) way for our family and friends. Our guests were made to be part of a celebration. If you are willing to do the work to create a meaningful heart and soul moving event, then Barbara is the person for you. I'm sure she can also create an outstanding event for those that just want the nice words made for them, but I think it would be just a little bit sad to let such an important day be spoken from outside your circle of love. If you let Barbara teach you to speak from your heart and soul, the words of love you have for each other, then your love story will be the most honored guest at your celebration."   Gail and Glenn
Unique, Meaningful and Full of Love…that is how we would describe our wonderful wedding ceremony on August 20, 2016.
Barbara is extremely gifted and created a ceremony that was perfect for us. Our wedding day was incredible and we heard time and again from our 50 guests that it was truly one of the most beautiful ceremonie
s they had every attended. We thought so too and are both incredibly happy Barbara was the one to marry us. Thank you Barbara from the bottom of our hearts for being a very important part of our wedding.    Doug and Donna xo
"One of our guests said this to us: "As soon as I saw the celebrant and heard her speak, I knew this wedding was going to be a classy event."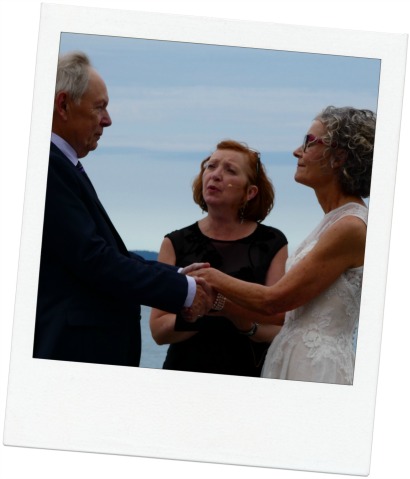 Not only was our wedding classy, Barbara worked with us to establish what was important to us for the celebration of our marriage and translated that into a very personal and impressively original ceremony.
In her comments to our guests prior to the event, she set the tone perfectly; not just for our ceremony but for the rest of the evening's celebrations as well. Because of her compelling presence, her amazing communication skills and her incredible story telling ability, Barbara created a wonderful sense of inclusion for all of our guests.

Barbara Densmore is extraordinary in every way. She made our wedding a phenomenal event." N&H