For some couples, an intimate wedding ceremony is a better fit. What may be more "you" is a
small ceremony
on the beach. Or a more relaxed
backyard ceremony.
  A family picnic with a ceremony
in the middle
of it. A brilliant scheme to hoodwink your loved ones with a
surprise wedding
(oooh, I have ideas…:).  Or running away on
a group elopement
(since everyone is going to have to travel anyway.)
Whatever the plan, you are inviting only the people who matter most, and you want to feel fully connected to them, to capture the love that you have for each other and for your cherished guests. And while your day is smaller in size, it's gigantic in its importance to you…you want your ceremony to be the centrepiece of your day…authentic, whole-hearted, and real.
In such an intimate setting, any outsider can seem like a stranger. I'll make sure that doesn't happen for you.
And because your guests are fewer (20 or less), we can actively involve kids and parents and pets and…well…everyone.  It's a whole different energy…a space full of love.
K&A's most important people travelled from all over the country. Over almost a week, they got to know eveyone, and in the middle, they helped to get them married.  Oh so many photos full of absolute joy…captured stunningly by Jon Mark Photography.  You can see more images of their wedding here.
Travelling to the Island to get married?
I am happy to offer suggestions of unique places or venues for a more intimate ceremony and service providers who love wee weddings as much as I do.
"We were not surprised getting comments from our family and friends that it was the most beautiful ceremony they had ever attended. It felt so uncomplicated and genuine from start to finish."  B&T, summer 2018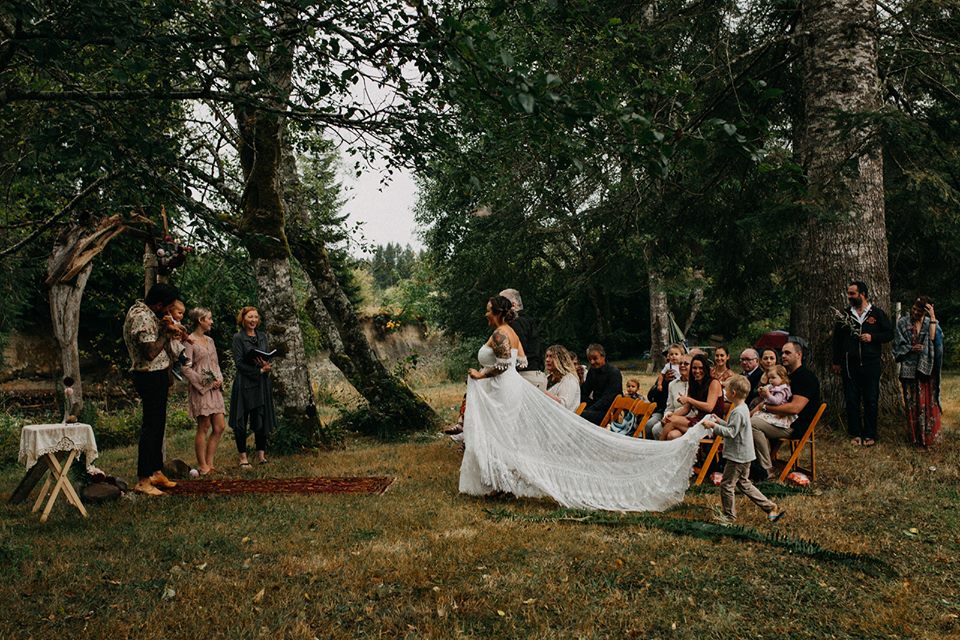 B&T 's wedding on the riverside came with a tented spot which came in handy for the party after. Lots of kid involvement, including their son.   Image by Georgia Johnston Photography.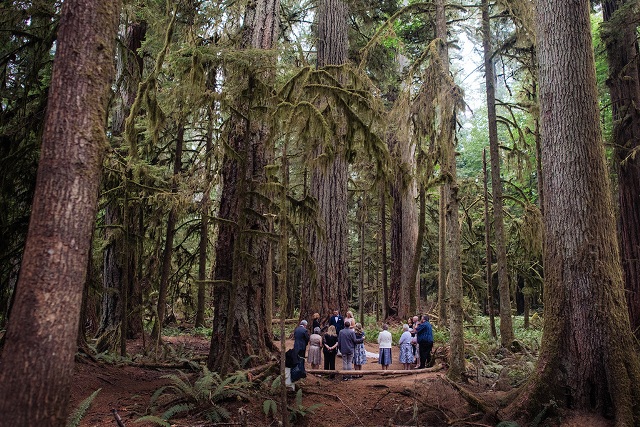 M&F chose to add another layer of history in an old growth forest at sunset. So much love in that space. Image by Rick and Cheryl from Love You Me Pictures.
 Operative word for C&N's ceremony was "casual." They invited their fav folks and dogs along on their annual west coast getaway. Bonfires and plaid. And in the middle, a wee wedding.  Image by Kaitlin Shea Photography.
Do you have kids? (even adult ones?) Are you marrying later or after loss?  Have you been together for a while? Check out Weddings with History.
Are you a same-sex, trans or gender non-conforming couple?  Check out LGBTQ weddings.
Modern Metaphysical Minister/Celebrant and Wedding Officiant, Vancouver Island. Including Victoria, Duncan, Nanaimo, Parksville, Courtenay, Comox Valley, and Campbell River.