When Laura contacted me about 8 weeks before their wedding, she said that although she had been planning their wedding for almost a year, something felt missing. Everything else was done, but she didn't feel like she was getting married. Her intended – Hugh – would support her, but his experience of ceremonies was more of the "rubber stamp" variety.
Our initial chat unearthed this: Hugh and Laura wanted their ceremony to reach out and gather everyone in its embrace. To share their love and joy with the people who mattered the most to them. To really feel like they were getting married. And of course…to enjoy it.
With all that in mind, we went to work. The couple put themselves into co-creating their ceremony with gusto. And it showed.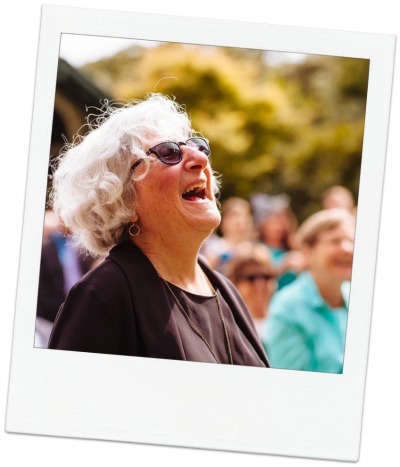 Pure boundless  joy. These images perfectly capture the essence of the ceremony, the couple, and the people who love them.
"Laura, there wasn't a pivotal moment that told you 'this is the one'. You just slowly realized that you were already committed.You had already assessed Hugh from your "must-have" boyfriend qualities list, and he'd scored 100%. But somehow, it was clear from the beginning that this was totally different from any other relationship you had ever had…Hugh had a big heart, full of love, and yours recognized it."
Given that Laura is a massage therapist, it was only natural that guests all actually had "a hand" in getting her married to Hugh. (pic below)
Pure boundless joy.
"And one day, many many years from now, perhaps you'll be back here at St. Ann's Academy, sitting together right in this very spot, holding hands just like now, contented, calm and secure together.   
And may younger couples look at you and think: "that's who I want to be."
.
.
Laura and Hugh, so happy you chose me. Honoured. Grateful. And still smiling when I recall this magical moment in time.
You can see more of Ryan Macdonald's uber-amazing photos (including many wonderful shots of the happy couple) on her blog post.