Rob and Jax met years ago in high school, and even dated briefly. When they bumped into each other 20 years later, they were a province apart, and very different people. They fell into step easily, and ultimately Jax and her son moved to Alberta to live with Rob, but Victoria, their reconnection point, was where they chose to be married.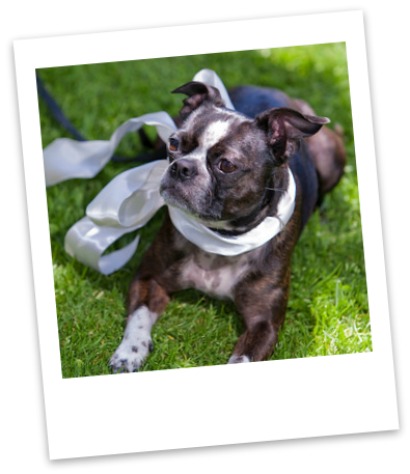 They wanted their wedding ceremony to be the centrepiece of their day. They wanted it to be authentic, warm and real..not stuffy nor formal. They intentionally chose the people that mattered for a wedding ceremony (and day) that was personal and intimate. And they wanted Jax's son Xander to be included, and to make some vows to him as well.
The ceremony had not one, but two canine ring bearers. We built Jax' propensity for superstition into the ceremony; among other things, Rob pulled a packet of salt from his pocket at just the right moment. Xander tied the couple together in a unique handfasting, and presented the rings. Their wedding vows were original and heartfelt.
Jax is a little on the shy side, and it was sooo wonderful to see her enjoying her own wedding ceremony, ad-libbing a few priceless quips. Rob was relaxed and happy. And Xander loved taking an active role in the wedding ceremony from start to finish. And no bones about it, the dogs were model ring bearers.
A number of their guests remarked afterward that it was the most authentic and unique wedding ceremony they had ever attended and how like Rob and Jax it was. The couple themselves described their wedding ceremony as "beautiful, fun and heartfelt." Fitting, because to me, these words describe Rob and Jax themselves…authentic, unique, beautiful, heartfelt, and especially fun.
Jax and I just want to say thanks again for everything you did to make our ceremony so stellar. You understood what we wanted from the get go and made our ideas come alive. We are forever grateful. Cheers,
– Rob
Thanks to Adriana Durian from AdrianaDurianPhotography for these images. Adriana, you captured the wedding ceremony so beautifully…from couple, to dogs, to guests with so many incredible photos, wish I could post them all.